Newsletter #37: Our wish list for the climate
In this newsletter you will find suggestions on how you yourself can be part of the climate justice movement and what we are already looking forward to next year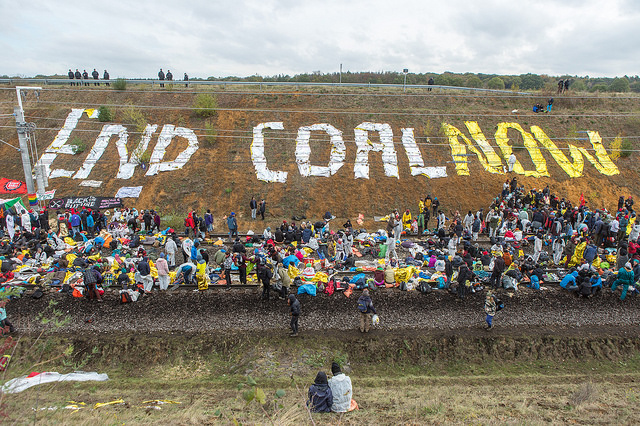 Dear people,
how nice it would be if we could write the immediate coal exit on our wish list and it would then be brought galloping by a few red-nosed reindeers. Too bad, it's not that easy. – But we rather believe that Santa Claus will bring the solution to the climate crisis than this federal government. It made a terrible fool of itself – even for UN standards – when it travelled empty-handed to the climate summit in Katowice: The coal commission had not delivered. And that while the hut is burning all around. Unbelievable. Instead, those in power prefer to deal with new police laws that are supposed to make life difficult for us or put critical associations such as "Rote Hilfe e.V." (anti-repression work) under pressure.
Therefore it remains up to us to put coal phase-out and climate justice into practice ourselves, while not losing sight of all the other things on our wish lists. In this newsletter you will find suggestions on how you yourself can be part of the climate justice movement and what we are already looking forward to next year: exciting action plans around the Coal Commission, the first Ende Gelände Treffen 2019 in Freiburg, the joint strategy conference in Kassel, the growing of a concrete vision of a Europe-wide uprising for climate justice and, and, and…
– and before that we wish you and us a quiet time to take a breath and recharge our batteries!
1. Hej Koko, switch off now! Local groups mobilise
2. Ende Gelände Kick-off Meeting 15-17 February 2019 in Freiburg
3. Action & Strategy Conference 11 – 13 January 2019 in Kassel
4. Solidarity with the "Rote Hilfe" – Become a member
5. European Uprising for Climate Justice – By 2020 we rise up

1. First Hej Koko, switch off now! Local groups call for decentralized actions
The so-called Coal Commission (officially titled "Commission for Growth, Structural Change and Employment") is slowly coming to its end. But whatever final result is presented on 1 February 2019, it will hardly be compatible with the 1.5°C target or even climate justice. Instead, it looks as if the coal lobby could once again assert its interests. The shutdown of coal-fired power plants is not to begin until after 2020, with high compensation for and only in agreement with the corporations. The already inadequate CO2 reduction target for 2020 would thus be abandoned. Nevertheless, it will undoubtedly be attempted to present the result of the Coal Commission as a "consensus" that will put an end to the social dispute over coal. But we're not getting involved in that! Local groups of Ende Gelände and other local climate justice groups are therefore calling for decentralised actions on the occasion of the publication of the final report of the "Coal Commission". In an action period from 1 to 10 February various actions will take place all around Germany. Because coal exit remains manual work!

2. Ende Gelände Kick-off Meeting 15-17 February 2019 in Freiburg
From 15th to 17th February the next Ende Gelände Meeting will take place, this time in Freiburg. The meeting is the kick-off for our nationwide activities in the new year; here we will discuss concrete plans for 2019. Will there again be a nationwide mass action of civil disobedience against coal? Where and when and on what occasion? The meeting is a good opportunity for interested parties to get to know the Ende Gelände alliance and to get involved in the preparation process. We need you! If you would like to get involved in a local context beforehand, please contact the climate or Ende Gelände group near you [/en/get-involved/local-groups/].
3. Action and Strategy Conference from 11 – 13 January 2019 in Kassel
At the beginning of the year you we are very happy to invite you to the action and strategy conference of the climate justice movement for the German-speaking area in Kassel. Following on from the strategy conference in August this year at the Climate Camp in the Rhineland, many people and actors will come together from 11 to 13 January to exchange ideas. We want to analyse where we stand as a movement, where we want to go in 2019 and what it needs to go there. It will not only be about coal, but also about actions against the car and aviation industries, against industrial agriculture and other facets of the climate justice movement and, of course, about the question of how we can work together and remain resilient in the long term. Please register here until 2 January 2019!
The documentation of the first strategy conference is highly recommended as an introduction… a great reading for the Christmas days! If you have any questions or want to support the preparation team please contact: strategie2019@riseup.net
4. Solidarity with the "Rote Hilfe" – Become a member
Thanks to Interior Minister Horst Seehofer a ban on the "Rote Hilfe" (anti-repression work) is been discussed in public now. This alerts us and causes us to point out the importance of anti-repression work: The Rote Hilfe e.V. is a nationwide left-wing legal aid association and supports people who are confronted with repression because of their political activities. Again and again active members of the climate justice movement are also supported by the "Rote Hilfe" e.g. financially with costs for court proceedings and lawyers. In recent years, smaller autonomous anti-repression groups such as the "Legal Team für Alle" (Legal Team for All) have also been founded, which have become a fixed component and sought-after contact point at the climate camps. Collective structures such as "Rote Hilfe" are needed to ensure that no one will have to deal with legal disputes alone in the future. With our call for solidarity "To an end of the repression area – Create "Rote Hilfe"! [only available in German] we would like to contribute to support this important association and to provide together for more contemplative times.
All freedom-loving people are invited to spread the call for solos and best of all to join the "Rote Hilfe" themselves [available in German only]. You want to support the call as (climate) group or organization and be mentioned with your name on the Ende Gelände homepage? Then write to the Homepage-Crew.
5. European Uprising for Climate Justice – By 2020 we rise up
Climate justice groups across Europe are currently planning a joint long-term mobilisation, culminating in a huge uprising for climate justice and system change in 2020. Throughout Europe, masses of people will carry their protests to places of destruction, blocking coal ports and gas pipelines, airports and mega-stables, banks and border regimes. Over the course of 2019, this mobilisation will gradually be built up; new and small groups will have time to form, experience first action and learn from existing groups. No less than fifteen groups from seven countries are already supporting "By 2020 we rise up" [http://by2020weriseup.net], including Ende Gelände – and there are more and more.
Follow "By 2020 we riseup" on Twitter or become a supporter with your group! Contact: by2020we@riseup.net.
YOU make the plans that fit into your regional policy context. The 2020 network links and makes visible. Together they create a big picture of a movement for climate justice with all its facets.
Many greetings and lots of recreation,
Your Newsletter Crew