Ende Gelände 2018
---
News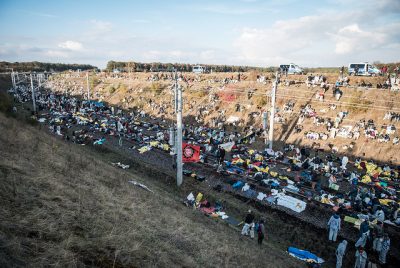 10. January 2019 Looking back at the Ende Gelände action at the end of October 2018 Continue reading ...
Saving the Hambach forest through immediate coal phase out
The preservation of the Hambach Forest is an immediate measure for climate justice on a local and on a global scale. Everybody knows that the coal has to remain in the ground so as not to heat up climate crisis. Still RWE keeps on destroying the forest and at the same time the sources of life of many people wordwide out of their interest for profit.
To prevent disastrous consequences of climate change the coal has to stay in the ground! Therefore Ende Gelände demands a permament end to the clearing and announces an action of massive civil disobedience for the next season starting in October.
Front line for fighting climate change
Government officials have been egotiating for 23 years and haven't managed to limit global temperature rise. And we hardly have any time to avoid crossing the 1.5 degree threshold. Germany will miss its 2020 climate targets. And climate change won't wait. The climate movement needs to embrace direct action more than ever.
System Change not Climate Change!
We can't tackle climate change or ensure global social justice without moving away from capitalism fuelled by fossil fuels. Deep socio-economic changes are needed to enable everyone to lead a good life.
We say
ENDE GELÄNDE
For the first time in 40 years the climate justice movement was able to stop the wood clearing of the Hambach forest for the mining pit for an entire clearing season 2017/2018 by protests and legal complaints. This is what we will keep on doing, being civilly disobedient from the 25th to the 29th of October 2018!
Coal phase out is hands on work
The local government Arnsberg has authorized further clearing of the Hambach forest starting the 1st of Oktober 2018. But we will be there to stop it! Together we will make a strong point for climate justice in the Hambach open pit mine – with further actions of civil disobedience.
We'll keep our promise: we'll keep
coming until extraction stops!
Climate change doesn't wait!